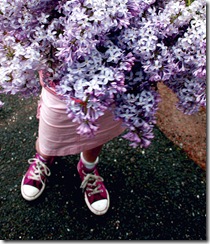 Some rights reserved by Pink Sherbet Photography
Overcoming fear, it's funny.  A lot of people think I'm forever optimistic, that my life is easy, that my troubles aren't much.  They say this is why it's so easy for me to do what I do, that if I had their problems I would struggle like they do. 
But really I'm human just like "them".  I have an everyday life just like you.  And granted, I have a lot of tools, understanding, and insight that helps life feel easy.  But it's a mistake to think that this is always simple.  Sometimes I have to go looking for easy.
For a many of us it's been a tough week.  The series of events in Japan and around the world have left us feeling ill at ease, vulnerable, and exposed.  Personally, I have leaned so far into fear that I temporarily allowed my environment to consume me. 
My usual ability to bounce back from adversity and find my equilibrium has been hard to come by.  This is life.  It is not always easy but I know I must always, always find easy within the hardship.  This is what I teach, this is what I believe, and this is how I live.   Fear does not define me anymore.
 
When I get caught up in fear (and we ALL do from time to time) I pull inside and listen to my heart and ask: "What do I need to feel safe?  What do I need to feel love?"  What do I need?"
And this is what I came up with:
…keep my exercise routine
…balance my checkbook, organize my taxes, and clean my house
…turn off my computer and spend more time with my kids
…reconnect with my neighbors after a winter of staying indoors
…stay present with my clients (thank goodness for my clients!  I love them.)
…use the healing techniques I know so well for myself
…laugh with my friends about something completely irrelevant
…talk to my husband
…keep my commitments
…make good food
Sometimes the list looks quite different.  Sometimes I don't keep my routine, I do break commitments, I don't make time for friends because these are what my heart needs then.  But this week, this was my list.
And today I feel better.  My optimism is back, I feel love, hope, and that all will be well.  And life feels easy again.
Kirsten Hope CBP, CHt, QPP specializes in offering The Quick Pulse, The BodyTalk System, and Hypnotherapy for adults and children who desire to live a healthier, more liberated lifestyle.  You can contact her through the contact page.