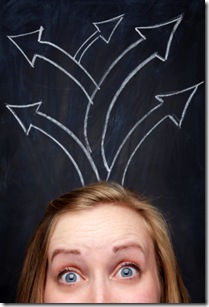 Over the years I have dealt with more than my share of procrastination.  Why more than my share?  Because procrastination is a hot topic in my office!  Not a week goes by that I don't do some form of healing on procrastination, helping get people moving on the things that are important to them.  I can tell you that no matter what your situation, procrastination comes down to just two simple drivers.  Every.  Single.  Time.  If you are putting something off it has both of these factors.
The number one reason you're procrastinating? 
#1:  You don't have enough information
When you don't have enough information it's hard to act.  Examples of this?
There is an element of this item that you don't know how to do.  You need a new skill.
You're not convinced.  Of the pay off, of the value, of the effectiveness, what ever.  You don't have enough meaningful information to make this compelling to you.
#2:  Your decision will create conflict.
Conflict comes in differnt forms.  These forms can be:
An internal emotional conflict, usually fear or worry. 
A head/heart conflict between thinking and feeling.  Your head says one thing (logic, predictable, societal norms) and your heart says something else.
A physical conflict – taking action will create physical pain or discomfort in your body.
Relationship conflict – taking action on your item may hurt, anger, worry, or make important people in your life uncomfortable.
Benefit Conflict – the benefit of not taking action outweighs the benefit of taking action.