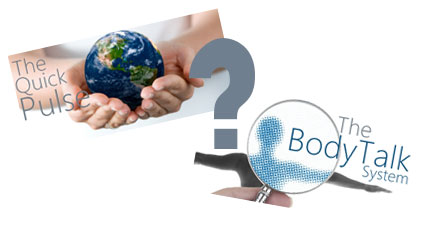 This is a continuation of the post: What's the Difference Between The Quick Pulse and BodyTalk?
As noted in Part 1, the main difference between these two methods is The Quick Pulse clears energy while BodyTalk synchronizes energy.
The Quick Pulse is the catalyst for releasing negative energetic patterns.  And you could very well stop here.  However, I have found that when I combine these two methods into one session the results are more reliable and ultimately move you closer to well-being faster.
BodyTalk is important because it improves communication between your physical body, your emotions, and spirit.  BodyTalk also neutralizes the impact that environmental influences (people, places, situations) have on you.  This alone has a huge impact on how easy life feels.
Think of it this way…
At every moment of every day all of your bits and parts and pieces are talking to each other, enabling your body and mind to function properly.  And 'properly' in this case means working for your greater benefit.  You know you're all "synced up properly" when you bounce back from physical or emotional upheaval easily.
Sometimes it helps to think of the mind/body/spirit connection like it's a corporation
Imagine your body parts (organs, endocrines, muscles, etc.) are the employees who work in the corporation.
And picture the systems of your body (reproductive, cardiovascular, skeletal systems, etc.) are the departments (which are comprised of individual employees).
Now consider your mind (and emotions) as the culture of the corporation.
And your spirit as the mission statement for the corporation.
Put it all together
If there is miscommunication within or between any of the employees (parts) or between departments (systems) the organization ceases to function optimally.  Or what if the work environment is hostile, overly competitive, or intolerant (mind/emotions), what happens then?
If the people and departments are fine, but the corporation has an unclear vision the people and departments get confused, frustrated, or ineffective and begin to shut down.
It is like this with your body too.   When different parts of you are not communicating fully you feel bad.   When this miscommunication continues over a long period of time we call it chronic illness.  In business we call it bankruptcy.
BodyTalk's role
BodyTalk works like a mediator in a corporation.  A mediator looks at the corporation as a whole and highlights dysfunction within the corporation.  What makes the mediator effective is the ability to look globally from a broad perspective for problems and then suggests strategies to correct these.
From a BodyTalk perspective, the practitioner uses the BodyTalk System to highlight which bits and parts and pieces aren't talking to each other.  As attention is brought to these areas, the innate wisdom of the client "sees" it differently and is then able to correct the discrepancy.
While BodyTalk and The Quick Pulse are both energy medicine, how they work are quite different.  They are both excellent systems in their own right.  However, I have found that the combination of both clearing and synchronizing the energy body provides the most significant and reliable change.
Kirsten Hope CBP, CHt, QPP specializes in offering The Quick Pulse, The BodyTalk System, and Hypnotherapy for adults and children who want to live a healthier, more liberated lifestyle.  You can contact her through her contact page.