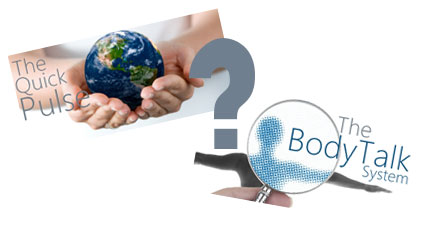 One of the most frequent questions I get from new clients is "What is the difference between BodyTalk and The Quick Pulse?"
Quite simply, The Quick Pulse clears your energy body while BodyTalk resynchronizes your energy.
When you have something going on in your life that is creating pain (anger, sadness, worry, confusion, grief, pain, etc.) your energetic frequency contracts, becoming denser and heavier.  When this happens your physical body also contracts, restricting circulation and communication between body parts.  This creates a destructive loop of emotional pain feeding physical pain and back again. 
Now imagine you and a friend are standing facing each other, palms against each other's, and you're both trying to push the other one over.  This is similar to the physical/emotional pain feedback loop I'm talking about.  You're pressing your friend and they're pressing against you.   Now imagine your friend suddenly stepping away.  The tension is immediately released.
When you are in this loop it is virtually impossible to receive guidance and divine intervention to resolve your problems.  This is why you feel stuck.   When you use The Quick Pulse Technique you are actively clearing this dense and heavy energy from your body, releasing half of the equation.
And when this happens you feel better.  When you feel better you vibrate at a higher frequency increasing your ability to receive more of what you want.  This resolution often comes through divine intervention (some call this 'coincidence') and the disappearance of symptoms. 
The Quick Pulse then is the catalyst for releasing negative energetic patterns in your body, in your life, and in your circumstances.  And you could very well stop here. 
However, many people have noticed that when they recalibrate their body to the changes The Quick Pulse brings they get even better, more noticeable changes.  And this is where BodyTalk comes in.
Stay tuned for Part 2.  What does BodyTalk do?
Kirsten Hope CBP, CHt, QPP specializes in offering The Quick Pulse, The BodyTalk System, and Hypnotherapy for adults and children who want to live a healthier, more liberated lifestyle.  You can contact her through her contact page.