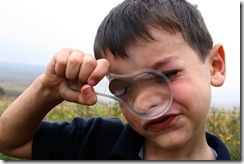 Some rights reserved by woodleywonderworks
If you're in the market for detoxing your liver consider this first.  Your liver is doing all sorts of wonderful things for you.  It filters your blood, makes bile and hormones (IGF1), stores vitamins and minerals, plus a bunch more.  And while it does all of this for you it is also doing all sorts of additional tasks that are beyond what we can see. 
Every organ, endocrine, body part, and system of the body has both a structural job (physiology) and an energetic job (consciousness).  The structural job of your body is to keep you alive, healthy, and thriving.  The energetic job of your body is to help you grow and develop your soul. 
This is easy to see in children because as they grow bigger they are also growing consciously.  Their ability to emotionally and consciously navigate the world matches their physical growth.  As their body gets bigger so does their capacity for understanding.  The mind-body connection is obvious; bigger body, bigger brain, bigger decisions.
What isn't so obvious is how the mind-body connection continues in adults.  It's still there, but it's harder to see. 
How does this work?  Let's start with the liver.  There are a lot of programs out there to help you cleanse your liver.  The liver is important because it stores stuff, lets stuff go, and organizes with the other main organs.  When this doesn't happen we feel sluggish, tired, bloated, and foggy.  That's why people want to cleanse their livers. 
However, before you detox your liver, you might consider what your liver is doing (or not doing) for you energetically.  The liver carries the consciousness of anger, organization, planning, processing, and resentment.   Chances are that if you're drawn to a cleanse at least one or more of these subjects will resonate with you.  And if they do, you must address these first if you want lasting benefits from your cleanse.  This way you'll get the biggest pay off for your effort.
Let's take another example – your skeletal system, or your bones.  Your skeletal systems gives your organs, muscles, and connective tissue something to hang on to so you're not just a puddle of goo.  The energetic function of your bones is to hold the consciousness of support, security, foundation, and stability.  When your bones are strong you have the energetic support to hang your emotions on.  Do you see the connection?
It is important to understand you are NOT causing your illness or discomfort.  People don't choose to get sick.  Not at all.  I am however suggesting that if something hurts or isn't functioning this is your body's way of talking to you.  It is telling you something.  Pay attention.